Fundraising Cookbooks are a great way to raise money to help accomplish the goals of your organization!
Want our Free Sample Cookbook?
Click here to request our Fundraising Sample Cookbook!
Why A Cookbook Fundraiser?
Look who can profit from a Cookbook Fundraiser:
School Fundraiser, Church Fundraiser, Sports Team Fundraiser, Scouting Fundraiser, Ladies Club Fundraiser, non-profit Fundraiser, College Fundraiser, Fireman Fundraiser, community Fundraiser, Business Fundraiser, Civic Group Fundraiser, Band Fundraiser, Cheerleading Fundraiser, Dance Studio Fundraiser, 4H fundraiser, PTO Fundraiser, Cancer Fundraiser, Garden Club Fundraiser, Youth Group Fundraiser.
All of these types of groups have successfully raised money with a fundraising cookbook from Cookbook Fundraiser. Fundraising cookbooks have been around for many years and there are many fine cookbook printers that want to print your cookbook. But you deserve more than just a cookbook printer.
The Family Cookbook Project's CookbookFundraiser.com can help you. We use the power of the Internet to help create the cookbook with you and your group. Our website is designed specifically to make it easy to collect, organize and design your fundraising cookbook and motivate your contributors -- something not available from any cookbook printer.
See why you should work with us and what to expect, and then get started today.
Why CookbookFundraiser.com?
Also check out FamilyCookbookProject.com to learn how you can create a personalized cookbook for your family.
Featured successful fund raising cookbook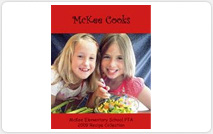 "We are so thrilled with the outcome of our cookbook project. Originally I had thought that we would do the printing of our school cookbook in a traditional way, as I have more than two dozen years in publication production. Another PTA mom suggested finding an online vendor, and after searching the possibilities, I found your site to be the most user friendly and cost-effective solution.
"What we liked most was the ease in allowing folks to enter their recipes directly online. From there, we could go in and edit the entered data to be consistent. And at the time of completion, I could go in and manipulate the recipes to fit the pages, making the most of space and economics! You give so many options.
"The printed project turned out beautifully! Our custom photographs, including the cover, turned out awesome - a real selling point. We got unexpected benefits from extensive media coverage, boosting sales and necessitating a reprint within only a couple of months of our original printing - be sure to order enough up front - the final product has been in serious demand. We made more than $1,500 from our first printing, and expect even more from the 2nd printing.
Thank you, CookbookFundraiser.com!"
- Cheryl Madden Brown, McKee Elementary School PTA, Oakdale, PA
Read the article in the Post-Gazette
Testimonials

"Our Boy Scout troop's
Campside Cooking
has earned over $2000 so far. What a great project!"
Brandon Clark

"The books look fabulous! We are already out of copies and need to order a second round for our club. Thank you for your easy system."
Denise Wyer
more